Toilets
Toilet & Shower Hire Ipswich
Lockyer Hire have a number of different toilets and showers available for hire for your next building site, event, or even private house in Ipswich and South East QLD. Construction projects require a minimum of 1 toilet for every 15 employees.
Portable toilets and showers are a convenient and hygienic solution for a variety of events, parties, and building sites in and around Ipswich. These units can be easily transported to any location and provide a comfortable and private space for individuals to use the bathroom or shower.
Hiring a portable toilet or shower for your event or building site can help ensure that your guests or workers have access to clean and functional bathroom facilities. It can also save you the hassle of having to arrange and maintain permanent bathroom facilities on site.
All units cleaned and checked prior to delivery.
To hire a portable toilet or shower in Ipswich, simply call us and we can arrange your hire immediately
To learn more about hiring our chemical toilets or towable toilet & shower, call us on 07 3288 0202 or send an enquiry today.
Categories

Chemical Toilets
3 Products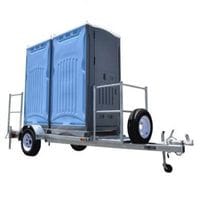 Towable Toilet & Shower
1 Product